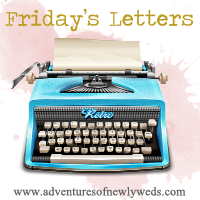 I saw this last week and now... I HAVE to link up.
I'm brand new to Ashley's
blog,
but I have to day, I'm loving the Friday's Letters!
Here we go...
Dear Friday, please hurry up and be 4:30... we both know that I have no want or desire to work and if you were a true friend you would go by quickly... just sayin...
Dear Jerk Face Who Pulled Out In Front of me, that was a pretty bold move, scooting out from a side street and then literally stopping in front of me in the middle of the road. I let it go this time, but please know that next time, my gigantic beast of a car WILL hit you and I will have no problem with it because it won't be my fault. Learn to drive.
Dear The Knot.com, thank you for charging my account, then crediting it when my order was back ordered, and then randomly charging my account again. I especially appreciate the overdraft fees that I had because of it. Don't you know that I am planning a wedding and money is tight? You can't just charge things willy nilly.
Dear Baby Maeve, You are so stinkin' cute that I can't even take it. I wish that I could just squish those little cheeks. Please continue to be a good baby! Your mama needs it! Also, please feel free to always be fresh to your Papa... it will make your Mama happy.
Dear Future Husband, I can't believe that tomorrow will mark 5 years of us being together. As much as you drive me insane...I do appreciate the fact that you are in my life forever. I can't believe that this is our last "dating" anniversary! (I will be posting a gushy anniversary post tomorrow)
Dear Mama, HAPPY BIRTHDAY YOU GORGEOUS LADY YOU!!! You are the world's best Mama and I would be lost without you. Sorry you are stuck in a crappy meeting all day, but we shall have fun tonight!
Dear Wedding Planning, Please finish yourself. I'm all done. Thanks!
Dear Boss Man, Please stop taking us out for Chinese food. You know I can't resist it and my diet is suffering.
Dear Last 15 Pounds, Watch your back! I will be back at it again on Monday and you won't know what hit you!
Dear Work, Please stop changing. I don't do well with it. I'm not a fan of it. Please. Just. Stop.
That's all for today. I need to pretend I'm working (when I'm really reading the second "Grey" book). Adios Chicas! Have a fabulous day!