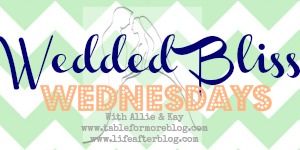 It's time for Week 2 of Wedded Bliss! Hubby and I just celebrated one month of being married. We're pretty much professionals now. (Ha! Famous last words...)
NOW... onto the questions. Allie and Kay came up with some good ones this week!
How often do you and your husband have a date night?
Hubby and I has a weekly date night on Wednesdays. Life gets a little crazy sometimes so we like the fact that we know we have one night to make sure that we hang and catch up. We don't let anything get in the way of date night unless it is extenuating circumstances. Right now, I'm being a shitty wife and babysitting on Wednesdays. I'm not a huge fan of it (although I love the girls I'm watching) but he knows I'm just doing it to make every extra dollar for us.
What did you do on your first date?
Our first actual "real" date was in September of 2007. About 4 months after we started dating. He had never had a girlfriend before so he was new to all of this. We went to this restaurant called Canyon Cafe which we absolutely LOVED. We were obsessed! We probably ate there at least once a week until they randomly closed. We have never been the same since.
What is your favorite kind of date night?
My favorite kind of date nights are the ones that we laugh the most. Sometimes our date night consists of us just having dinner and watching TV together. Simple. Sometimes when we have extra cash (or I catch a good Groupon deal) we go out to dinner. My favorite, recent, one was when we went bowling. We just laughed our asses off. It was an amazing night.
How do you do date night on a budget?
Like I said before, we stay home a lot. Sometimes we can swing a night out. Or I look for fun things in our area on Groupon. I got a good deal on bowling and I just got movie tickets for a steal! I also just cashed in some points on my credit card for a gift card to one of our favorite restaurants that can get a little pricey.
What is the best kind of date your husband could surprise you with?!
Probably going to Dino's. They have THE most amazing lobster ravioli there and Big A knows that I would have figured out a way to marry THAT if I could. Other than that, I'm sure I would love anything that he planned just because he put in the time and effort into it.
That concludes the SECOND edition of Wedded Bliss Wednesday! Can't wait to see what these girls come up with next week!