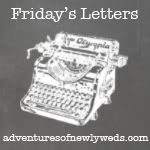 I am SO incredibly, unbelievably happy that today is Friday.
Seriously. More so than usual.
I babysat until almost 10:30 last night (Yes, I'm 26 years old and still babysit and yes some day I plan to have a job that pays me enough to not have to do things like this) and then a certain someone decided that he wasn't ready to go to sleep until about 12:15.
And this was after I threatened to punch him in the face and leave him for the dog since he never kept me up late at night.
Yeah... I was tired.
Anyway... the alarm clock went off WAY too early this morning and I didn't get out of bed until 10 minutes after I was supposed to leave.
Charming.
So... needless to say, I'm over today.
I have a fab dinner planned with my Mama, MIL, and SIL so I'm looking forward to that.
Now... onto Friday's Letters.
Head on over to Ashley's
blog
and you can link up too!!!
Dear Sweet Husband,
I love you SO incredibly much. However, if you continue to keep me up late I will have no choice other than to become a psycho hose beast and rip the TV off the wall. And yes, before you say anything you WILL notice a difference between normal me and
"I'm so tired I'm contemplating throwing something hard at your head"
me. Smooch.
Dear Weekend,
you're going to be a good one for sure. Dinner with family tonight. Wine tasting tomorrow. Just do me a favor and try not to ruin it with cold or rainy weather. Thanks!
(Also, feel free to pass this message along to your bitch of a friend, Mother Nature.)
Dear Coffee,
I don't know how I ever lived without you. I mean granted, it was only 14 short years before I learned how delicious you are, but I can't believe I went so long without knowing you. Thanks for always being there when I need a pick me up.
I will now take back the smooch I gave to Husband and give it to you.
Dear People Who Call at 7:30 AM,
for the record, I'm usually the only asshole here before 8:00 AM. You aren't going to reach anyone. And unless it is an emergency, no one wants to talk on the phone that early. Certainly not me. From now on, please note that I will be hitting the
"eff you"
button and ignoring all calls until 8:01 AM.
Dear Sore Muscles,
what are you complaining about? Apparently none of the exercise was enough to lose anything this week so I don't understand why you are being whiny bitches. Lock it up, whores.
Dear Self,
why are you so bitter?
Dear Holiday Spirit,
let's see some action this year. Last year was a total buzz kill. And I know that wasn't completely your fault, but you were lacking anyway. We have a lot of firsts this Christmas, good and bad. So I'm going to need you to be extra awesome this year so that I can just focus on the good. Deal?
Dear
Leah
,
THANK YOU SO MUCH for the special information you gave me yesterday! Totally made my day and I am soooo excited! Also, please excuse my snarky/bitchy semi-rant in the e-mail I just sent you. I know it is too early to be that ridiculous, but to be fair you DID e-mail me right as I figured out some bullshit. You should know that e-mailing me is like Russian Roulette. You never know what you are going to get. Love you!
Dear Papa,
it completely warms my heart that when I asked you what you want for your birthday, all you asked for was a collage of all of your favorite pictures from the Wedding! Love you!
and lastly...
Dear Readers,
get ready for a super awesome giveaway next week. Umm... probably Thursday? I'll give you a hint... it involved a certain awesome photo website and some absolutely glorious Holiday Cards. Figure it out yet??? Oh... it also involves 50 smackaroos...
Alright my little lovers, that's all for today!
Have a wonderful fabulous weekend and I will be back next week with more craziness.
Smooch.