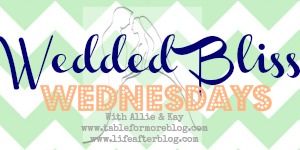 Better late than never right?
There's only one question today:
What are you thankful for in your marriage?
Honestly, I'm thankful to have someone that has my back. Good or bad. Up or down. I have someone by my side. I mean, I know I have family and friends and such like that. But being married, I dunno, it makes me feel a little less alone in the world. Ya know.
I don't mind asking Big A for help because that's what we do. He helps me. I help him. We pick up the slack when the other one is going crazy. He has it together, when I'm falling apart. I guess it just feels like we have the world on BOTH of our shoulders. Ya know.
I'm thankful to have someone to keep me safe. To make sure that the doors are locked tight. That everything in the house is shut down every night. That the heat is where it should be. That the AC is where it should be.
I'm thankful to have a built in best friend. Someone to giggle with every night before we go to sleep. It's like a permanent slumber party! To have someone to wake up next to every morning.
I'm thankful to have someone to get rid of the ridiculous amount of spiders that our apartment acquires. To take the trash out because I don't want to. To take the dog out at night because I am afraid of the dark. (Well actually, I am afraid of being kidnapped by a psycho serial killer and tortured like in all of the billion horror movies that I watch)
I am thankful to have someone to love me. ME. ALL of me. Every part of me. The way that I am. Not someone they want me to be. Someone who is with me because they WANT to be. Because they found their soul mate in me, like I found in them.
I am thankful for the fact that no matter how much I worry of get anxious about a situation, deep down I am really OK, because I know that Big A wouldn't let anything bad happen to us. He's a hard worker. A fighter. A strong man. I know he's got things under control.
I'm thankful that I have someone who I know our kids will be proud to call Dad. Who will bring them up right. Teach them right from wrong. Teach them how to stand on their own two feet and WORK for what they want. Someone who will beat the living piss out of anyone who attempts to harm them. Someone who will do everything that they can to give our kids a good life.
I am thankful for so many things. Most of all, I am just thankful for my MARRIAGE. Thankful that I was lucky enough to find "The One". We have a special thing going on and I try not to ever take it for granted. To always be thankful for the life that I have. Because not everything is guaranteed.