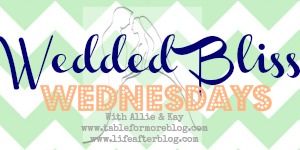 Whoops, just found out that this never posted. I'm posting this and then I will post the wedding update I have for today!
I didn't have time to look back in old journals and such seeing as how I JUST remembered that it was Wedded Bliss Wednesday when I got to work this morning and say Allie and Kay's post and said , "SHIT! wasn't I supposed to do something for that?" Whoops!
Eh, here goes nothing!
1. When you were a child what did you imagine YOUR Prince Charming to be like?
I don't think I honestly ever imagined my "Prince Charming" as a child. I think I just thought more about the bigger picture. The family, the house, etc. I didn't really think of what I wanted. I think I just wanted someone who was going to keep me safe, protect me. Ya know.
2. Does you husband match your prediction as a child?
Yep. To a T. Big A is my biggest protector. Sometimes I get so frustrated with him when I am talking about something that is bothering me and he goes off on a tangent and gets all upset and tries to tell me what to do. But then I remember that he is only doing it because he loves me and doesn't want to see me hurting. He has my back no matter what. Even with little things. We will be driving in the car and he will have to stop short, and his arm reflexively goes across my chest to hold me back. It's cute. He's like my own personal body guard. I know that no matter where I am or what I am doing that as long as he is by my side that he won't let anything happen to me. And if we aren't together, he's just a phone call away and he will be right there to handle things. Sometimes it makes me feel invincible. Not in a naive way, but in a "as long as I have him everything will be OK" kind of way.
3. What about when you were a teenager and knew it all about love, does you relationship match that scenario you had during those rebel years?
OMG! NOOOOOOO! I'm just going to be honest here. I was a pretty effed up teenager. I was going through a lot and kind of used relationships to work it all out. I've really only had 3 REAL boyfriends. The first was that whole "I think I'm in love and will be with this person for the rest of my life, oh wait you're really an asshole, forget this...". The second basically MADE what my relationship with Big A is. I was determined to do it different this time. And I did. And honestly, I think that is the reason that Big A and I are married today. If I was still the jaded, effed up, selfish person that I was, then Big A probably would have thrown up the deuces and walked away from me, right quick.
Our relationship is a lot more of a team mentality, which is something I never would have figured out as a teenager. I know that no matter what, Big A and I are in this together. Ya know. We will fight. We will disagree. We will have hard times. Things are going to SUCK sometimes. But at the end of the day, this relationship is important to us, and we are important to each other. Fights aren't this big whole dramatic 'he's going to leave me" thing anymore, they are a way for us to continue learning from and about each other.

4. What love movie would you best match your relationship to? Why?
I wouldn't. Honestly. I don't know anyone else, fictional or non-fictional, who reminds me of us. I know couples that I WISH that we could be like. One surprising one, would be Dan and Roseanne Connor from Roseanne. I know they are kind of trashy and ridiculous, but they absolutely LOVE each other. And they are in it TOGETHER! Even with their kids, it's like them against the world. It's cute. I hope that when we have been married for that long and have kids that we still are best friends.