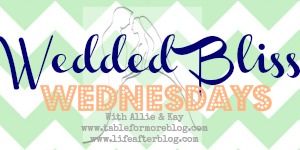 I'm linking up with
Allie
and
Kay
again for another Wedded Bliss Wednesday.
(And look who actually remembered to hit publish on their post this week! Holler!)
1. What is/will be your husband's best trait as a father?
Let's start this whole things off by saying that we do not have kids yet. Don't think I have been hiding them from you. I promise, they do not exist. Now that we got that out of the way.
I think that my husband's fierce drive to take care of us will be his best trait as a father. I mean, he will have a million amazing traits, but I think that our kids will always know that their father is there for them. Working hard, every single day to make sure that we are safe. That we have a roof over our heads, food on the table, and clothes on our back.

2. What is/will be your husband's favorite thing to do with the kids?
He wants to teach them out to work on cars. It is no secret that Big A is a little obsessed with cars. Forget the fact that he is a mechanic, but he also owns two trucks and a 1969 Chevelle that he restored himself. He's ridiculously smart when it comes to cars (and picking wives heh). Girl or boy, he wants them out there handing him wrenches, helping him sand, etc. Our kids will always know how to change a tire, change their oil, drive a standard, etc. They won't be no fools.

3. How does/will your husband help out with the kids?
We don't have kids yet, but I don't know. I picture him being a very hands on Dad. He tells me stories about excited he used to get when his father walked through the door and I know that he wants that feeling too. I guess we will have to see how it goes whenever we have them

4. What do you hope your children learn from their dad?
I hope that they learn everything from him. I think that he is just such an amazing person, that if they take after him just a little bit then they are going to be cool ass kids. I want then to learn his work ethic, that you want to EARN your money. I want them to learn that hard work and dedication get you everywhere that you want to go. I hope that they learn his sense of humor. To just laugh at those little things that get you and let them roll off your back. I want them to learn his fierce protectiveness of his family. That he would do anything to make sure that they are safe and happy. And if they are boys, I want them to learn how to be a man from him. If they are girls, I want them to learn how a man is supposed to treat a woman by watching how he treats me. I hope that they learn how to stand up for themselves when someone is trying to put them down.
I've known him as a boyfriend, a fiance, and now a husband. I can't WAIT to know Big A as a father as well. I know he is going to be amazing. And our kids are going to be so freakin' lucky to have him for a father.