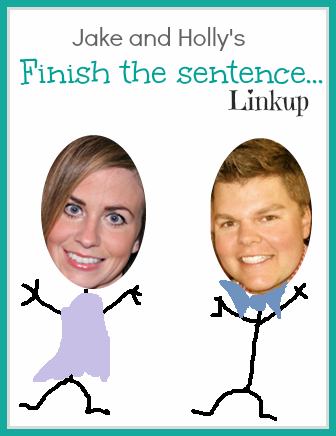 I figured since I've been totally slacking lately
(and couldn't even be bothered to line up more than 2 posts while I was on vacation and then posted some bullshit "hey I'm back, here's a bunch of random pictures" post)
I should maybe get back to real stuff.
Soo... I'm linking up with
Holly
and
Jake
for "Finish that Sentence"!
If I had one extra hour in the day... I would spend it sleeping. I never feel like I get enough sleep!
I wish my name... was earlier in the alphabet. I always hated waiting forever for it to be called (except in college when you were considered "absent" if you walked in after your name was called and I could be a good 15 minutes late before they called my name). I always said I would marry someone with a name earlier in the alphabet than mine. Guess I should have been specific. One letter wasn't really what I was thinking...
I think anything chevron is... cute, but I don't know if I would ever have it as my own.
My last nightmare... was about the Wicked Witch of the West chasing me. Who knows what THAT was about. I woke up before I figured out what was going on.
Sometimes... I wish that I won the lottery, or had a house cleaner, or got a huge paying job, or something else would happen that would make my life a million times better/easier.
My last meal on earth would be... Texas Cheese Fries from Chili's, Lobster Ravioli from Dino's, a salad from The Outback, with Breadsticks and Alfredo Sauce from Olive Garden, and a giant delicious bottle (or 12) of Reisling. Moo!
I would much rather... be hated for who I really am than liked for being a fake.
Mayonnaise... kind of grosses me out. I mean, I know you need it for stuff, but most of the time I replace it with Fat Free Miracle Whip (sorry Holly, apparently when you grow up on one you want the other!)
10 years ago, I didn't think... I would be here. With an amazing husband, in a fabulous house, with a great job (that I wish paid me more, but definitely pays me more than it probably should), and a couple really good friends!
Selfishly... I only mind when Big A is out in the garage FOREVER when there's nothing good to watch on TV. Heh.
My favorite show on TV right now... is nothing because everything is on hiatus for the SUMMER! Ugh! But, I'm kind of digging "Newlyweds: The First Year" (come back into my life), and Bridezillas: Marriage Boot Camp (hysterical).
And, George Zimmerman... is the only one besides Trayvon Martin who knows exactly what went on that night. And that's all I'm going to say about that.
I'm going to try to be back to blogging more regularly once the whole vacation mindset leaves and I catch up on the 12,000 things that I need to catch up on. Head on over and link up with Holly and Jake!